Was going to do this yesterday but got a bit busy!
Anyway!
This weeks meal plans are;
Sunday; Black Bean Burritos.
The problem I had when making this was that we couldn't find any 'black beans' anywhere! So we ended up using black eyed beans, which still tasted just as nice! And Robert also moaned there wasn't any meat in it so I also added mince, we had naan bread and egg fried rice on the side too =]
Click
here
to view the recipe.
Monday: Golden Chicken.
This admittidly was a bit of a faff to make, I didn't really understand Jamie's method so I kinda just winged it, but it turned out quite nice and I really enjoyed it, so did everyone else!
I'd never cut a leek before so that was also interesting! (I had no idea what I was doing whilst cooking this.)
Click
here
to view the recipe.
Tuesday: BBQ Baked Beans;
I made this yesterday, it was actually really quick to make (although I did have a situation with the chilli's, got one seed up my nose and then in my eye), I made the sweet potatoes more like jackets, they were really nice! Especially with a bit of grated cheese on top! We decided the beans would have been nice as a side though instead of a main meal, but overall another win in our house.
Click
here
to view the recipe.
Wednesday; Goat's cheese & Sun-Dried Tomato Tart
This is this evening's dinner, I quite like making tarts so I'm looking forward to making this, will probably do mixed frozen veg to go along side this.
Click
here
to view the recipe.
Thursday; Loaded Sweet Potatoes
I'm looking forward to these the most this week, just after last nights meal, sweet potatoes are slowly becoming my favourite food at the moment, especially the ones from our green grocers!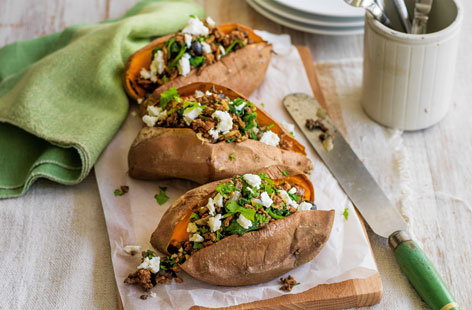 Click
here
to view the recipe.
Friday; Leftover Pizza
I'm making Robert and Edward make this as they can do this together, we'll just put whatever we can on the pizza that needs to be eaten up by the end of the week, but we'll follow this basic recipe just as a guide.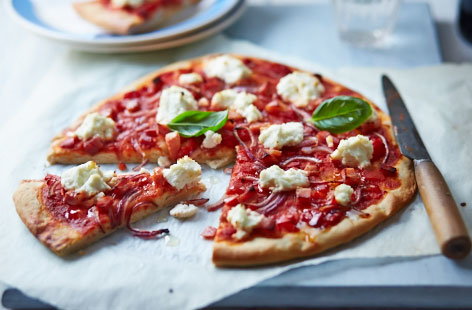 Click
here
to view the recipe.